The Allard Pierson (the Collections of the University of Amsterdam) manages an internationally unique circus collection, one of the largest in Europe. The circus collection is composed of a number of collections from private individuals–such as collectors Jaap Best, KD Hartmans and Herman Linssen–and institutions–such as Theater Instituut Nederland–who have focused on collecting circus heritage. This page offers an overview of the private collectors.
Jaap Best (1912–2002) was 'infected' by the circus at the tender age of seven, when the Wilhelm Hagenbeck and Corty-Althoff circuses visited his hometown of Alkmaar. From that moment on, he fell under the circus' spell, and tried to attend as many performances as possible and collect their advertisements. In 1947 he started working in the circus, first as an administrative assistant and later on as executive secretary of Circus Strassburger. In the 1960s, he was the administrator of Circus Williams, the Wiener Eisrevue, Circus Harry Belli and the Berliner Eisrevue. Thanks to all these positions he managed to build up a very extensive circus collection, which was unparalleled in the Netherlands. His collection acquired international allure in 1964, when he was able to take over the ample archives of German acrobat and circus collector Erdwin Schirmer, consisting mainly of Adolph Friedländer's beautiful posters. With more then 3500 colour lithographs by this Hamburg printer, this is the most extensive collection in the world.
After Jaap Best's death, his widow gave the collection to Teylers Museum in Haarlem. The board of the Jaap Best foundation subsequently handed over the collection to the Special Collections in 2016. The collection includes 7,300 posters, 7,900 photographs and postcards, 400 prints and engravings, 4,000 programs, 2,000 magazines and trade journals, 600 books, clippings and circus paraphernalia such as jigsaws and calendars. The material is available in the Theatercollectie's catalogue and has largely been digitised.
Date: 1883–2002.
Click HERE to see all objects from the collection of Jaap Best in the Theatercollectie catalogue.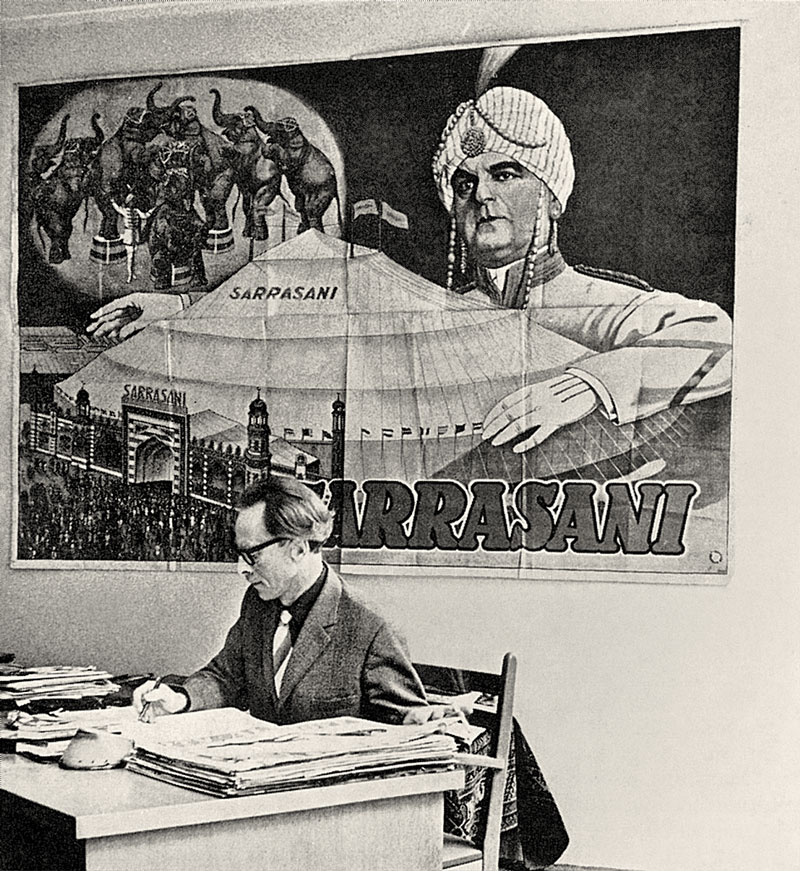 Jaap Best at work on his collection.
Photo: archive of De Piste.
Herman Linssen was born in Roermond (NL) in 1934. In 1960, he moved to Weert, where he worked as a notary. His first visited a circus in 1944: Circus van Bever, which left a huge impression on him. Following this initial encounter, he visited and photographed countless circuses far and wide. In his early years, Herman spent some time working on a miniature circus he built himself. From 1950 to 2010, he built up a circus collection that showcases 3,000 books, 12,500 programs, 16,600 posters, 100,000 circus photographs, slides, postcards and magazines (sometimes photocopies) in the field of circus and the entertainment industry. There are also pasted clippings, 1,300 prints and all manner of printed advertisements. The collection also includes the Letellier collection on predator training.
Herman has always had a great interest in circus history. From 1985 onwards, he worked for 30 years to record the history of the circus in card systems and registers, mainly based on complete volumes of trade journals starting in 1883 and magazines for friends of the circus, present in his own collection or in foreign libraries. The importance of his collection and historical research is recognized both at home and abroad. The Linssen Collection regularly supplies historical information and illustration materials for publications.
The collection has been largely digitised.
Dated: 1765-2010
Click HERE to see all objects from the collection Herman Linssen in the Theatercollectie catalogue.
Video: Herman Linssen and his circus collection
Adolph Friedländer's poster collection
Adolph Friedländer (1851-1904) started a printing business in 1872 in the Hamburg district of St. Pauli. Over the years, this company would develop into the largest lithographic printing company for circuses, fairground attractions, variety shows and individual artists. The largest number of these posters, the so-called Friedländers, come from the Best collection.
After Adolph Friedländer's death, the company was continued by his sons, Ludwig and Max-Otto. The latter organised under the name Circus Maxo circus performances in the Netherlands in Scheveningen and in Amsterdam.
After Hitler's assumption of power in 1933, difficult times began for the Jewish Friedländer family. Although the national-socialist government continued to tolerate the printing house for two years after 1933, in 1935 the last poster was printed and the printing house closed its doors.
Different professionals specialised in a particular subject (animals, landscapes, human figures, clothing, typography) were often recruited to design a poster. Well-known illustrators of animals included Christian Bettels and Wilhelm Eigener, while Henry Schultz was a well-known illustrator of human figures.
The numbered copies can also be recognised by the printing house's monogram in the lower right or left corner.
Most of the Friedländer posters come from the Best collection. The circus collection now contains a total of more than 4,000 posters by Friedländer from the Best and Linssen collections.
Click HERE to see all Friedländer Posters
During his career as a photographer, Heinz Baudert (1915–2003) developed into a prominent chronicler of (international) circus life. In the 1950s he sold his ladies' fashion store to be able to devote himself entirely to photography. His 6×6 camera produced a series of recognisable and iconic images from the world of the circus. Various exhibitions brought his photographic art to the attention of a wide audience, including the Stedelijk Museum in Amsterdam.
The collection consists of photographs and negatives portraying circus life. The material is available in the Theatercollectie's catalogue (see above) and has largely been digitised.
Date: 1940–1980 (majority: 1950–1980), size: 1800 items.
Click HERE to see all of Baudert's photographs.
Kornelis Dirk Hartmans (1906–1963) collected books and other broadly circus-related materials in his spare time, with an emphasis on children's and young adult literature on the topic of the circus. From 1949 to 1961 he was active as a board member of the Club van Circusvrienden (the Club of Circus Friends) and from 1950 to 1962 as editor of the magazine De Piste (The Ring). In this position, he was able to build a close-knit network of contacts in the Dutch and international circus world. The circus collection that KD Hartmans bequeathed to the Amsterdam University Library when he died in 1963 consists of 3,300 books and brochures, as well as a collection of posters, programs, photographs and other material about the circus. The independent publications are included in the catalogue of the University of Amsterdam.
Click HERE to see the catalogue of the University of Amsterdam.
Jacques Letellier (Angers, 20 June 1915 – Metz, 5 June 2004) was a circus modeller and circus collector. From 1976, he started specialising exclusively in collecting materials about menageries and predator training. This collection includes photographs and photocopies of old documents, housed in 51 binders that Letellier considered his life's work. At Letellier's request, Herman Linssen (see above) took this documentation under his wing after his death.
The Letellier collection is part of the Linssen collection and covers the period 1800-2000.
Mr Jan Kiveron (died 2 October 1981, aged 68) was introduced to the circus at a young age. His interest was mainly focused on the animal acts, and on horse dressage first and foremost. The Carl Hagenbeck and Strassburger circuses were his favourites. Important pieces from his collection that became part of the collection of the Theater Instituut Nederland after his death include books, many photographs, photo albums and historical notes on circuses and animal acts from 1922 onwards.
Ritsko van Vliet Collection
Ritsko van Vliet (1924-2001) was a Dutch magician. He also amassed a considerable collection of archive and documentation material in the field of magic and variety: Het Historisch Variété Archief (The Historical Variety Archive). In 1993, Theater Instituut Nederland acquired this important collection, which focuses on the period 1880-1950. Since many of the artists who performed in the variety also performed in circuses, documentation on circus artists can also be found in this collection. The collection is described in a shelf list.
Bartele Stapert (1918-1980) worked as a psychotechnician and graphologist. He collected material about funfairs, funfair attractions, street organs and other mechanically produced music. He indicated his collection as 'a documentation of circus companies and street organs'. He worked as the archivist at De Kermisgids, the trade journal of the Nationale Bond van Kermisbedrijfhouders BOVAK (national union of funfair company owners).
The collection contains photographs, postcards, working plans, correspondence and other materials concerning merry-go-rounds, funfair attractions, and funfair and street organs.
Dates: 1850-1960 (mostly: 1900-1960), size: 3 metres
More information see HERE.
The A.J.E. Diemont Collection
A.J.E. Diemont was a horse trader from Zoetermeer. For the general elections in 1933 he was a candidate for the political party Recht en Vrijheid (right and freedom). He donated his collection to the Amsterdam University Library in 1941. The collection contains a small number of prints from before 1800, amongst which are some valuable illustrated works from William Cavendish, first Duke of Newcastle. Books and brochures from the nineteenth and twentieth century also discuss horses. The books are not kept together as a collection and are – still without collection indication – described in the catalogue of the University of Amsterdam.
Dates: 1659-1941, size: 124 items
More information see HERE.